Welcome to times publishing company
Times Publishing Company is the leading source for news and information in the southeastern United States. With its broad portfolio of newspapers, magazines, websites and consumer events, Times Publishing reaches more than 1 million people a week in the Tampa Bay region.
Times Publishing, through its flagship newspaper the Tampa Bay Times, has won 14 Pulitzer Prizes and a host of awards recognizing its excellent journalism on all media platforms.
e-Newsletters
Want to be in the know? Subscribe to the Times' free newsletters. We've got newsletters that cover topics including sports, food, politics and education. Our most popular newsletter–the Daystarter–comes to inboxes five days a week with the most pressing news in the bay area each day. Sign up today!
Events
Our consumer shows focus on everything from seniors to boat and home shows. Count on the Times to bring vendors and customers together in a safe, welcoming environment.
Special Projects
Check out Rising Threat, a two-year project where the Times partnered with the National Hurricane Center to uncover how climate change has increased the flood risk to properties in the Tampa Bay area.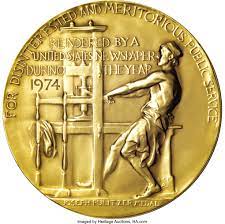 Awards
The Times' Poisoned project won the 2022 Pulitzer Prize for Investigative Reporting. The prize was awarded to reporters Corey G. Johnson, Rebecca Woolington and Eli Murray for uncovering how lax safety procedures at Florida's only lead smeltering plant endangered its employees, their families and the surrounding community.
Independent and locally owned, Times Publishing and its related companies have long been committed to supporting the Tampa Bay region through its philanthropic endeavors.
For more than 139 years, the Times has stood for truth and accountability. Together, the staff of Times Publishing works For a Better Tampa Bay.